According to Leonardo Da Vinci, the best way to see dragonflies up close is to visit the castle moat at dusk.
Da Vinci's notebooks are packed with weird observations like this! 😆
For example, he noted dragonflies have 4 wings: When the front two are raised, the back two are lowered.
That's how closely Leonardo looked at the world!
And the sharper his eyes, the better his drawings became.
You can just imagine him: Decked out in his typical dandy attire, peering into the reeds round the castle moat, rapt with the details of nature, and sketching away. 🙂
He noted advice to himself about how to observe:
"If you wish to have a sound knowledge of the forms of objects, begin with the details of them, and do not go on to the second detail until you have the first well fixed in memory."
Impressive stuff!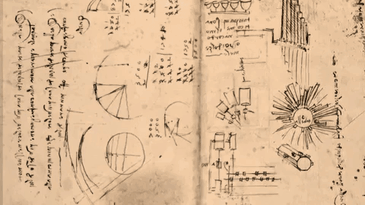 But it's not only artists who gotta train themselves to see.
Daniel Coyle spent 2 years travelling the world to study talent hotbeds.
And he noticed that all top learners share this trait of looking extremely closely at whatever they want to learn.
He calls it The Engraving Method.
"The key to effective engraving is to create an intense connection: to watch and listen so closely that you can imagine the feeling of performing the skill. For physical skills, project yourself inside the performer's body. Become aware of the movement, the rhythm; try to feel the interior shapes of the moves."
600 years later, we have an opportunity to engrave skills onto ourselves like never before - with tools Leonardo Da Vinci couldn't have dreamt of!
That's the magical thing about learning in 2020:
We can observe and replay moves by world-class teachers till the cow's come home.
Zoom. YouTube. IGTV.
We may be trapped indoors, but what a chance we've got!
Pause. Back. Play.
It's not glamorous like an evening spent by the castle moat. 😊
But it's a chance to engrave on ourselves, to "watch and listen so closely" we can "project [ourselves] inside the performer's body" and "feel the interior shapes of the moves."
That's the "intense connection" that raises skill.
And I like to think it's the same connection Da Vinci was after, when he peered into the dusk at dragonflies, way back in the 1500s.