When Einstein struggled with a problem, he'd strain his mind for hours trying to solve it.
So, to loosen up, he'd take a break, and sail his boat out into the middle of Lake Geneva, to stare at the sky.
Einstein was a terrible sailor, and often had to be rescued!
But he kept up his habit with the lake because, well...
Boom. Out there on the water, something would just click. He'd get an "aha moment," pull out his trusty pencil and notebook, and dive deep into a state of flow, to flesh out the answer to his problem.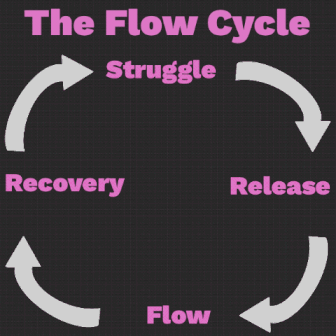 There are 4 phases with practice:
Typically, we have to struggle with our learning first (in some frustration), and then allow a period of release, before our minds are primed to enter flow.

And even then, if we don't take time for recovery after flow, we can end up with creative blocks in our practice.
It's worth​ remembering the necessity of all 4 phases (especially when we're feeling frustrated with our practice!) 😊
---
Is this a topic you'd like me to write about more deeply?