Feature updates
July 18, 2023
[New feature] Self-checkout for Personal Classes
Find out how to set up and enable self-checkout and setup plans/pricing here: https://practicenow.crisp.help/en/category/personal-classes-1y5nkl6/
What is this?
Your students can now browse and purchase personal class plans just like group classes or workshops.
Until today..
…you had to create a manual subscription every time a student wanted to buy or renew a personal class subscription.
Not anymore. You can publish your personal class fees online and allow students to check out whatever plan suits them best. See the screenshot below.
This should save you a ton of time and repetitive communication with personal class students.
Additional setting for toggling "No-show" penalty
Until today, whenever there was a no-show from a personal class student, the system would automatically deduct a check-in for that student – as a penalty.
Starting today, you can choose to turn off this option from here: Classes -> Settings -> Online Personal Classes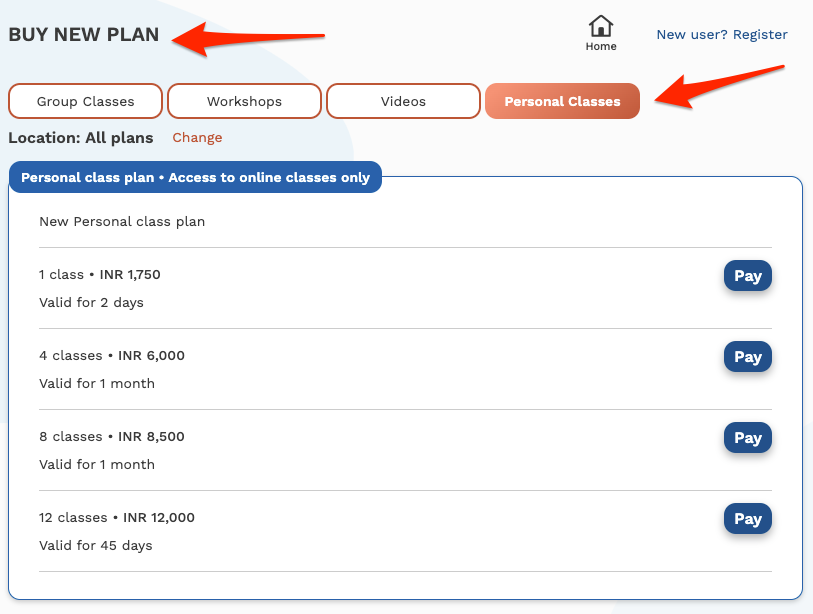 ---
June 27, 2023
[New feature] End dates for class schedule
Set the end date from here: Classes -> Upcoming classes -> Create Class -> New field below the Weekly Schedule section
What is this?
Let's say, you have a 3-day workshop this week on Mon, Wed and Fri @ from 2pm to 4pm.
You want the schedule to end on Fri. And not repeat again starting next Monday.
Until today…
..that wasn't easy. After adding an endless recurring schedule, you would then need to manually delete all of the classes after the 3rd one.
But not anymore. Just mention the "End date" of your schedule in the new field. And it's done in one shot.
A few more precious minutes saved for you.
What about Group and Personal classes?
Yep. It works for both of those cases as well. 👍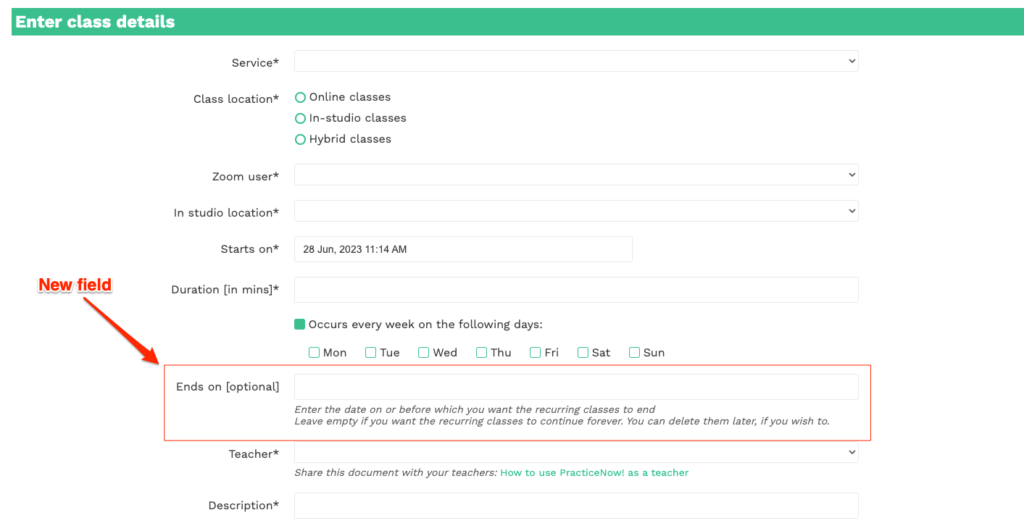 ---
June 11, 2023
[New feature] Auto-check-ins for Video recordings
Turn this on from here: Classes -> Zoom recording settings -> Zoom Cloud Recordings: Auto-Checkin
Note: This is only valid for Zoom. Skip this if you're on Google Meet.
What is this?
Let's say, I didn't attend this morning's class. But I watched the recording, a few hours later.
Do you think that should still count as a class check-in? If yes, you're in luck! Just turn on the above setting.
As a student, I will then see a popup, telling me that a check-in will be added when I watch a recording.
Here's how the popup looks for me, as a student (mock example):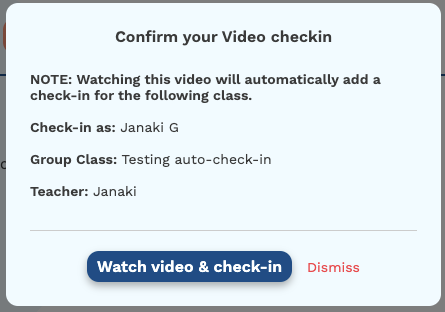 Until today….
…this was quite painful. You had to review the video views for each class. And then manually add the check-ins.
So, this new feature should be a relief for you.
Feedback?
Tell us what you think. We always love hearing from you.
Email: [email protected]
Insta: @practicenow.us
---
June 7, 2023
Enhancement: Much more flexible plans/pricing
Let's say, you had two plan options for the same class:
– 1 month, 12 classes
– 1 month, 24 classes
Until today, you were forced to create two (almost duplicate) plans: for 12 and 24 classes, but with all the other details the same.
Starting today, you won't have to do that anymore.
You can now create as many combos of classes and terms, for a specific plan.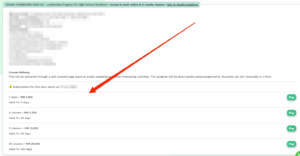 So..What has changed?
We moved the "number of classes" field from "Plans" to "Pricing".
While that's the only visible change, we had to make some significant changes in the database design to make this improvement.
Will this automatically take care of removing existing duplicate plans?
No, unfortunately not. If you'd like to remove the duplicates, you'll need to create multiple pricing entries for the plans in question – and then remove the duplicate plans.
---
June 6, 2023
New Feature: Discount codes
It's finally here 🙂
Admin: Go to Studio Info -> Plans & Pricing -> Discount Codes (button on the top right). You can manage your discount codes from there.
Students: For them, it works very similar to how it works on apps like Swiggy. There's a discount code field on the checkout page. And if they enter a valid code, they instantly see a discounted price.
Learn more: How it works
Check it out. We've made it quite powerful for you – while also making it very simple to use.